POOL TABLE INSTALLATION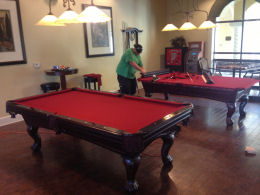 Family Owned and Operated
Over 18 Years of Experience
Top grade 21 oz cloth
Exceed Tournament Play Requirements
100% Satisfaction
When setting up or installing a pool table it is extremely important for a professional to do this for you. Correct leveling techniques and cloth application to the bed and rails requires special training and experience to make sure your pool table plays at its BEST!
US Billiard Services hasover18 yearsof experience installing all types of pool tables including standard home tables, snooker tables, Billiard tables and many others. You can feel confident in our experience and dedication to make sure you are 100% satisfied with our work!  
Our assembly methods exceed requirements for tournament play!
Unlike other companies that use wedges that can move under the slate we use flat shims for leveling insuring a stable foundation when the pool table gets bumped during play.
Beeswax is used on slate seams, not hard putties that will crack under the cloth and leave bumps the will affect the play.
Top grade 21 oz. cloth is used.
The Basic Assembly Process
The pool table is measured and squared to the room's particular dimensions. We then add flat shims or other materials depending on the floor type to level the base of the table.
Once the pool table is leveled we bring in the slate and square it to the cabinet. We then level the slate to tournament specifications or better, again using flat shims! Next, beeswax is applied, scrapped and then the slate surface is cleaned.
Cloth is applied using staples NOT glue unless there is no backing allowing for staples. The slate pockets are then lined with extra cloth backing protecting the slate from hard ball rebounds which can tear the cloth.
Rails are attached and sight aligned (best method). Pockets are then aligned and stapled.
Once the pool table installation is complete we re-check all around the table for any possible final settling and correct if needed.
Our technicians will explain basic pool table maintenance with the customer and answer any questions before leaving.